Self-Help Legal Research
Resources and Information to Help You Conduct Legal Research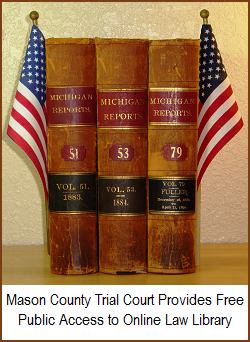 Article VIII, Section 9, of the 1963 Constitution of Michigan provides for the support of public libraries and county law libraries through the collection of fines assessed for "any breach of the penal laws."
The amount of money credited to the county law library fund, however, is insufficient for Mason County to establish, operate, and keep up to date a traditional law library that houses floor-to-ceiling shelves containing the physical volumes of law books. (The one of yesteryear, in fact, due to space constraints in our historic courthouse, has been repurposed for a shared office space.)
Therefore, to make legal resources easily accessible, and to ensure that these resources are both current and comprehensive, a computer terminal—on a first-come, first-served basis—is available for public use to conduct legal research. It is located just inside the Mason County Treasurer's Office, Room 104, which is situated in the northwest corner on the main floor of the courthouse. With the exception of legal holidays, the treasurer's office is open weekdays 9:00 a.m. to 5:00 p.m.
This public terminal provides free access to two important resources:
A register-of-actions (ROA) lookup, by name, of public court records in Mason County.

There are on-screen prompts as well as instructions posted at the workstation. Ask at counter for further assistance.

WestlawNext® Patron Access, an online, subscription legal-research service designed specifically for laypersons to conduct searches using simplified methods.

Review the booklet Introduction to Legal Research on Westlaw Next before you go to the courthouse to use the public terminal. It includes basic instructions, with illustrations, about how to research a legal issue, understand the content of a search-results page, and refine your search to find the most relevant information.
Get started by double-clicking on the Westlaw icon on the computer screen, select "I agree" after reading the terms and conditions, and then click

Continue

. Next, enter your desired search terms. When you are done, click

Sign Off

at the top of any page to exit and clear your browsing history.
In addition, numerous online legal resources are available at no charge, at any time, from any device with internet access. Below are a few select links that may help you prepare your case:
Page last updated/reviewed for content October 25, 2021